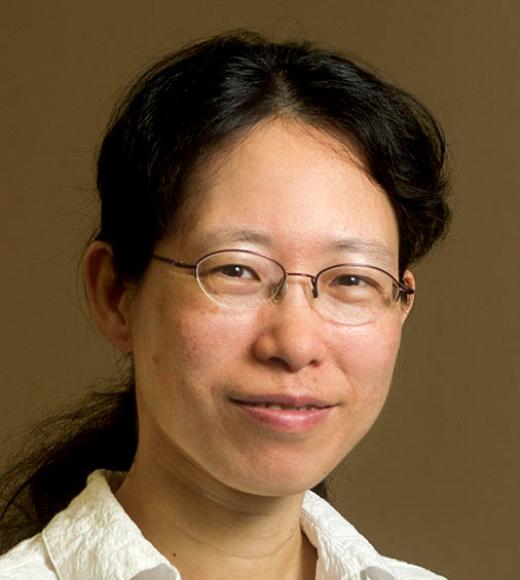 Bio
Carbohydrates play important roles in biological systems and influence cancer metastasis, bacterial and viral infection, cell-cell interactions. Carbohydrates on glycoproteins also affect their structures and functions. We focus on developing novel chemoenzymatic methods that combine the flexibility of chemical synthesis and the high efficiency and superior selectivity of enzyme-catalyzed reactions for elucidating the structure-function relationship of carbohydrates and glycoconjugates. We are also interested in structural and biochemical characterization of glycosyltransferases and other carbohydrate biosynthetic enzymes as well as designing mutants as better catalysts for carbohydrate synthesis. Additionally, developments of effective bioassays, glycosidase inhibitors, and carbohydrate-based diagnostics and therapeutics are ongoing research efforts of the group.
Education, Awards and Professional Highlights
American Association for the Advancement of Science Fellow (2015)
Member of the team for 2013 Dean's Team Award for Excellence from School of Medicine (Carlito Lebrilla, Charles Bevins, Bruce German, David Mills, Emanual Maverakis, Mark Underwood, Xi Chen, Jennifer Smilowitz, Angela Zivkovic, Daniela Barile, Helen Raybould, Carolyn Slupsky, Satya Dandekar) (2013)
Carbohydrate Research Award for Creativity in Carbohydrate Chemistry (2013)
JiaGeng Lecturer, Xiamen University, P. R. China (2013)
American Chemical Society CARB Horace S. Isbell Award (2012)
American Chemical Society - Sociedade Brasileira de Quimica Young Talents in Science Award (2011)
UC Davis Chancellor's Fellow (2009)
Camille Dreyfus Teacher-Scholar Award (2009)
Alfred P. Sloan Research Fellow (2008)
American Chemical Society CARB Young Investigator Fellowship Award (2008)
Thieme Chemistry Journal Award (2008)
CACPA Distinguished Junior Faculty Award (2007)
Beckman Young Investigator Award (2006)
National Science Foundation CAREER Award (2006)
Appointed to UC Davis faculty (2003)
Scientist, Neose Technologies, Inc. (2001-2003)
Ph.D. Wayne State University (2000)
B.S. Xiamen University, P. R. China (1994)
Representative Publications
Yu H, Lau K, Thon V, Autran CA, Jantscher-Krenn E, Xue M, Li Y, Sugiarto G, Qu J, Mu S, Ding L, Bode L, *Chen X. Synthetic disialyl hexasaccharides protect neonatal rats from necrotizing enterocolitis. Angew. Chem. Int. Ed. 2014, 53, 6687-6691. PMID: 24848971.
Deng L, Song J, Gao X, Wang J, Yu H, Chen X, Varki N, Naito-Matsui Y, *Galan JE, *Varki A. Host adaptation of a bacterial toxin from the human pathogen Salmonella Typhi. Cell. 2014, 159, 1290-1299. PMID: 25480294.
Chen G-Y, Brown NK, Wu W, Khedri Z, Yu H, Chen X, Van de Vlekkert D, d'Azzo A, Zheng P, *Liu Y. Broad and direct interaction between TLR and Siglec families of pattern recognition receptors and its regulation by Neu1. eLife 2014, 3, e04066, page 1-18. PMID: 25187624.
Chen Y, Li Y, Yu H, Sugiarto G, Thon V, Hwang J, Ding L, Hie L, *Chen X. Tailored design and synthesis of heparan sulfate oligosaccharide analogues using sequential one-pot multienzyme (OPME) systems. Angew. Chem. Int. Ed. 2013, 52, 11852-11856. PMID: 24038939.
Huynh N, Aye A, Li Y, Yu H, Cao H, Tiwari VK, Shin D-W, Chen X, *Fisher AJ. Structural basis for substrate specificity and mechanism of N-acetyl-D-neuraminic acid lyase from Pasteurella multocida. Biochemistry 2013, 52, 8570-8579. PMID: 24152047.
Scobie L, Padler-Karavani V, Le Bas-Bernardet S, Crossan C, Blaha J, Matouskova M, Hector RD, Cozzi E, Vanhove B, Charreau B, Blancho G, Bourdais L, Tallachini M, Ribes JM, Yu H, Chen X, Kracikova J, Broz L, Hejnar J, Vesely P, Takeuchi Y, Varki A, Soulillou J-P. Long-term IgG response to porcine Neu5Gc-antigens without transmission of PERV in burn patients treated with porcine skin xenografts. J. Immunol. 2013, 191, 2907-2915. PMID: 23945141.
‡Sugiarto G, ‡Lau K, Qu J, Li Y, Lim S, Mu S, Ames JB, *Fisher AJ, *Chen X. A sialyltransferase mutant with decreased donor hydrolysis and reduced sialidase activities for directly sialylating Lewisx. ACS Chem. Biol. 2012, 7, 1232-1240. ‡Co-first authors. PMID: 22583967.
‡Khedri Z, ‡Muthana MM, ‡Li Y, Muthana SM, Yu H, Cao H, *Chen X. Probe sialidase substrate specificity using chemoenzymatically synthesized sialosides containing C9-modified sialic acids. Chem. Commun. 2012, 48, 3357-3359. PMID: 22361713.
‡Muthana MM, ‡Qu J, Li Y, Zhang L, Yu H, Ding L, Malekan H, *Chen X. Efficient one-pot multienzyme synthesis of UDP-sugars using a promiscuous UDP-sugar pyrophosphorylase from Bifidobacterium longum (BLUSP). Chem. Commun. 2012, 48, 2728-2730. PMID: 22306833.
Bradley KC, Galloway SE, Lasanajak Y, Song X, Heimburg-Molinaro J, Yu H, Chen X, Talekar GR, Smith DF, Cummings RD, *Steinhauer DA. Analysis of influenza virus hemagglutinin receptor binding mutants with limited receptor recognition properties and conditional replication characteristics. J. Virol. 2011, 85, 12387-12398. PMID: 21917953.
Song X, Yu H, Chen X, Lasanajak Y, Tappert MM, Air GM, Tiwari VK, Cao H, Chokhawala HA, Zheng H, *Cummings RD, *Smith DF. A sialylated glycan microarray reveals novel interactions of modified sialic acids with proteins and viruses. J. Biol. Chem. 2011, 286, 31610-31622. PMID: 21757734.
Chen G-Y, Chen X, King S, Cavassani KA, Cheng J, Zheng X, Cao H, Yu H, Qu J, Fang D, Wu W, Bai X-F, Liu J-Q, Woodiga SA, Chen C, Sun L, Hogaboam CM, Kunkel SL, *Zheng P, *Liu Y. Amelioration of sepsis by inhibiting sialidase-mediated disruption of CD24-Siglec G interaction. Nat. Biotechnol. 2011, 29, 428-435. PMID: 21478876.
Padler-Karavani V, Hurtado-Ziola N, Pu M, Yu H, Huang S, Muthana S, Chokhawala HA, Cao H, Secrest P, Friedmann-Morvinski D, Singer O, Ghaderi D, Verma IM, Liu Y-T, Messer K, Chen X, *Varki A, Schwab R. Human xeno-autoantibodies against a non-human sialic acid serve as novel serum biomarkers and immunotherapeutics in cancer. Cancer Res. 2011, 71, 3352-3363. PMID: 21505105.
Yu H, Cheng J, Ding L, Khedri Z, Chen Y, Chin S, Lau K, Tiwari VK, *Chen X. Chemoenzymatic synthesis of GD3 oligosaccharides and other disialyl glycans containing natural and non-natural sialic acids. J. Am. Chem. Soc. 2009, 131, 18467–18477. PMID: 19947630.
Yi W, Liu X, Li Y, Li J, Xia C, Zhou G, Zhang W, Chen X, *Wang PG. Remodeling bacterial polysaccharides by metabolic pathway engineering. Proc. Natl. Acad. Sci. U.S.A. 2009, 106, 4207–4212. PMID: 19251666.
Tags