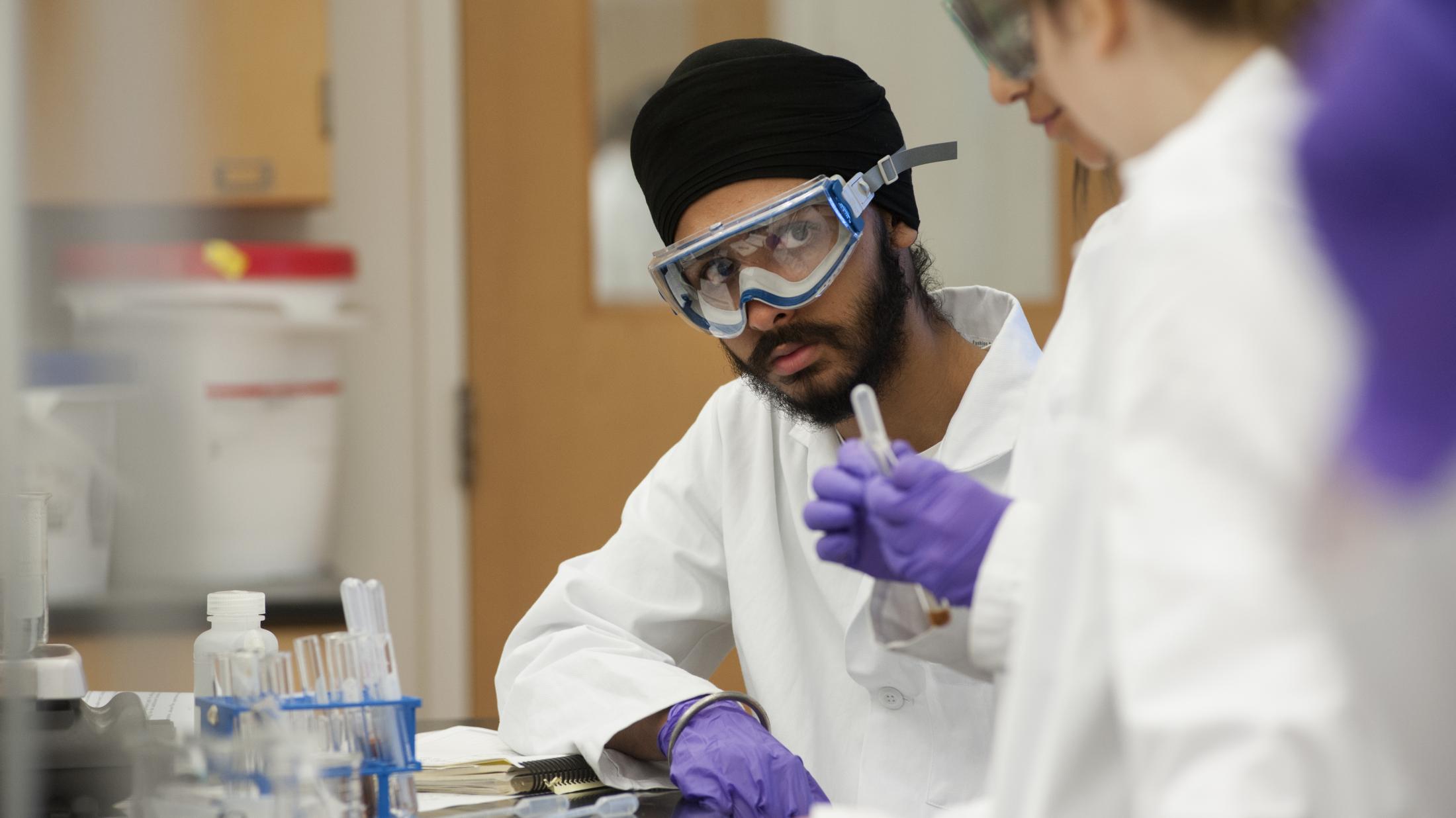 The following is a general job description for teaching assistants in all courses offered by the Department of Chemistry. Actual tasks may vary.
General Tasks and Responsibilities

Average total hours per week:  20 (50% appointment)

Weekly Tasks
- Pre-class preparation
- Attend lectures as requested by the instructor
- Attend TA meetings
- Attend laboratory coordination meetings
- Grade assignments related to lecture
- Grade assignments related to laboratory/discussion section
- Hold at least two hours of office consultation per course you TA

Quarterly Tasks
- Attend pre-class preparation meetings
- Lead pre-examination review sessions as requested by the instructor
- Grades special assignments related to lecture
- Grade midterm examinations
- Attend pre-final preparation meetings
- Grade final examinations
- Attend grade determination meetings

Laboratory and Discussion Sessions
If for any reason you are unable to carry out your assigned duties, for example, due to sickness or other emergency, you must inform the instructor and Head TA as soon as possible.  You should arrange to have an acceptable TA fulfill your duties.  It is preferable, and some instructors will insist, that the replacement TA be one who is already assigned to your course.  You must never cancel a discussion or laboratory without instructor approval.
Supervision
The faculty member or lecturer teaching the course provides course-related supervision.  In addition, the Laboratory Coordinator and Supervisor of the Teaching Assistant Program provide laboratory supervision.
Teaching Assistant Meetings
TA meetings are held once each week and make up a part of your enrollment in CHE 390.  They serve many functions.  First, they provide an opportunity to discuss the content and logistical details of upcoming assignments and examinations.  A stockroom supervisor is often present to discuss any problems or changes in an ongoing laboratory assignment, as well as to introduce the experiment that will be done during an upcoming week.  There will also be detailed safety instructions given during the meeting.  It is critical that you read the upcoming assignments before coming to the meeting so you will understand these comments.  The Head TA or faculty in charge will provide a grading scheme for completed laboratories.  The TA meeting's second function is to enable the TAs and the faculty to discuss how the course is proceeding and to present ideas for improvement.  It is required that you attend all TA meetings.
Academic Dishonesty
TAs are responsible for informing the faculty or lecturer in charge of any instances of academic dishonesty they may observe in the class.  This may range from plagiarism to cheating on an examination.  In these cases the TA should immediately notify the instructor in charge and await instructions on how to proceed.  Charges of academic dishonesty are very serious, and the instructor in charge must handle them.  For more information on this topic, please review the Code of Academic Conduct.
Safety

Safety is addressed in numerous places in the TA Training Manual and a section has been devoted exclusively to this topic.  It must be stressed that it is our responsibility to provide a safe environment for students to work.  As the TA, you play a very critical role in this responsibility.  Please ensure that the students behave in a safe manner in the laboratory and all safety protocols are followed.  You may do this by the following:

- Carefully and fully discuss all safety considerations at the beginning of the quarter
- Explain the location and use of all safety equipment
- Require you and your students to wear their goggles and designated safety apparel at all times
- Announce all specific hazards pertaining to each laboratory assignment
- Continuously circulate in the laboratory, observing student behavior and technique
- Observe laboratory safety protocols  

There is nothing more important in your role as a TA than to provide a safe laboratory environment for students and the avoidance of accidents.
Employment Information
Graduate students employed as a Teaching Assistant (title code 2310) are covered by a collective bargaining agreement between the University of California (UC) and the Association of Graduate Student Employees/United Automobile Workers (AGSE/UAW) Local 2865. An electronic copy of the UC and AGSE/UAW agreement may be accessed on the Academic Student Employee Unit page from the Office of Graduate Studies.
TAs are paid monthly.

Fall quarter: October 1 - December 31 (first paycheck November 1)
Winter quarter: January 1 - March 31
Spring quarter: April 1 - June 30

Graduate students with an academic appointment totaling 25% or more of full-time employment are entitled to an Educational and Registration Fee Remission, SHIP (Student Health Insurance Program) Premium Remission, and other applicable benefits as set forth in the Agreement. Specific eligibility requirements and percentages of each remission are also contained in the Agreement. Not covered at this time are campus-based fees.
Names and addresses of all AGSEs are released to the UAW each quarter.
AGSE/UAW membership dues or the agency fee (for those who choose not to become AGSE/UAW members) will be deducted each month from the TA paycheck.
Please see the Graduate Student Employment Handbook from the Office of Graduate Studies for additional information.