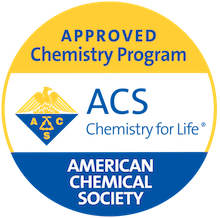 The general B.S. degree in Chemistry is the one chemistry program offered by our department that is certified by the American Chemical Society (ACS). Students in this program pursue a strong foundation in math and physics, in addition to chemistry, taking the higher level sequences of all course options. This degree provides a strong foundation in experimental processes, instrumentation, and quantitative analysis. Students will be well-prepared to apply their chemistry knowledge to a wide array of applications, including environmental, pharmaceutical, materials, and industrial chemistry.
Graduates will be able to successfully pursue their career objectives in advanced education in professional and/or graduate schools, a scientific career in government or industry, a teaching career in the school systems or other related career tracks.
Preparatory Subject Matter: 53-54 Units
Chemistry: 
Mathematics: 

MAT 21A, 21B, 21C, 21D,
MAT 22A & 22AL or MAT/BIS 27A
MAT 22B or MAT/BIS 27B

Physics: 

PHY 9A, 9B, 9C (9D recommended)
Depth Subject Matter: 54 Units
Analytical Chemistry: 
Biochemistry: 
Inorganic Chemistry: 

CHE 124A, 124L
CHE 124B or 124C

Organic Chemistry: 

CHE 128A-128B-128C and 129A-129B-129C

Physical Chemistry: 
At least FOUR additional upper division units in chemistry (except CHE 107A, 107B).  May include units earned from CHE 199, 194H, or 197T.
Total Units for the Major: 107-108 Units