Help Chemistry Rise to the Give Day Challenge Today!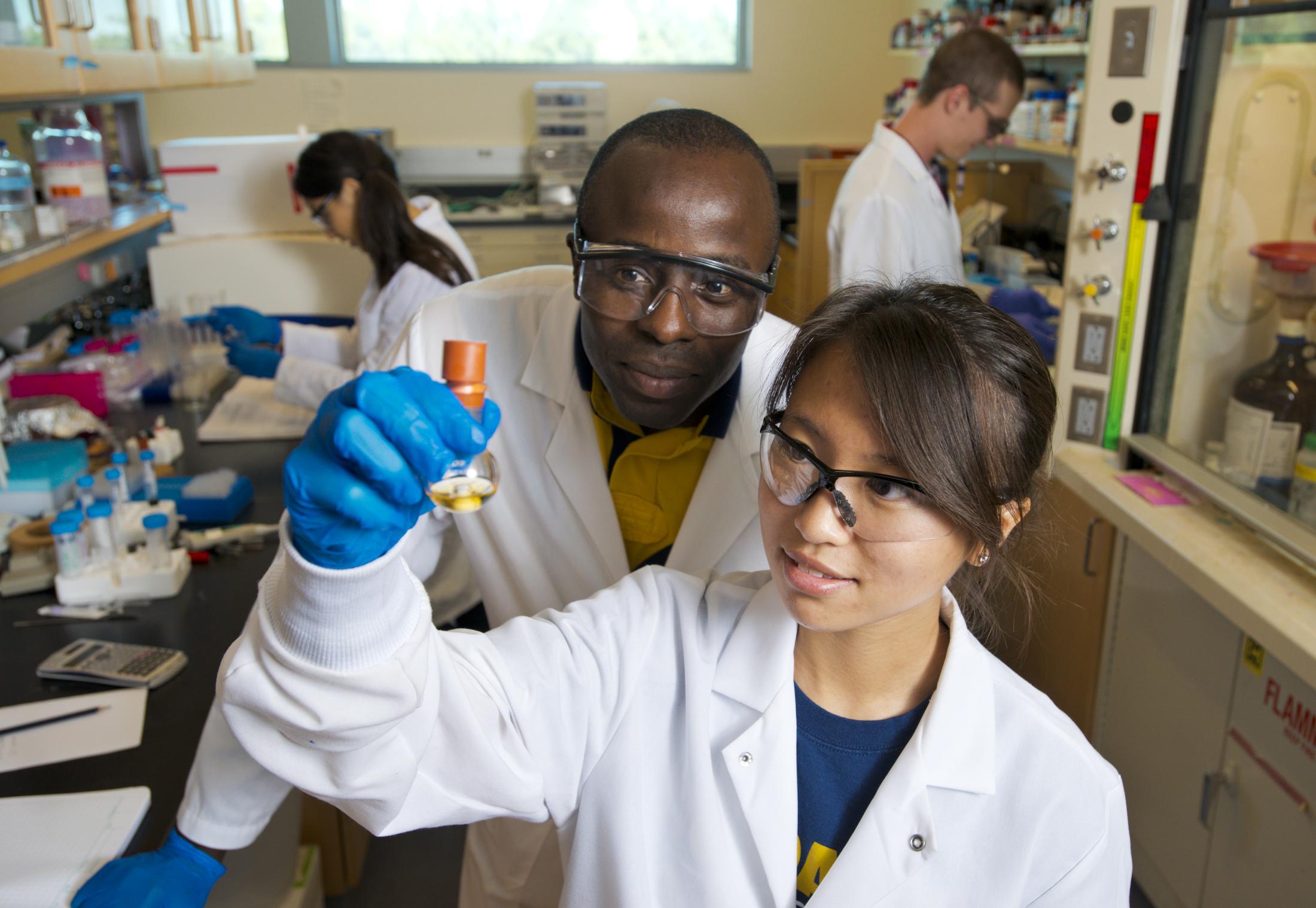 Some of the most profound and lasting student experiences happen beyond the classroom, which is why your gift on Give Day (be sure to check out all the campus challenges - any donation to any fund April 16-17 will go count towards the Give Day campaign!)  matters more than ever. The majority of our students take advantage of internships, study abroad, research and leadership opportunities, all critical components of the world-class education offered through UC Davis Chemistry. 
Philanthropy and alumni support help make all of this possible. 
Together, we can change students' lives and enable them to go beyond the expected. No matter which challenge you choose to support, when you give you are investing in a bright future for students who need it most. Please consider these current Chemistry Give Day Challenges today and other early:
$5,000

Give to the Chemistry Department at UC Davis!  Your gift supports outstanding academic programs, the pursuit of new knowledge, and innovative research within the Department of Chemistry. Your contribution will also allow flexibility to address the greatest needs within the department, including graduate student recruitment, undergraduate research, and community building.

Once 20 gifts are received, $5,000 from an anonymous donor will activate on Give Day.

$20,600

Support Chemistry at UC Davis! Your gift will help the department conduct preeminent and collaborative research, provide forward-thinking instruction in the chemical sciences, and focus on interdisciplinary research and teaching, with diverse classes, advanced facilities, and state-of-the-art instrumentation. $2,500

Once 20 gifts to this fund are received, $20,600 from an anonymous donor will activate on Give Day.

$2,500

This challenge will support research in Chemical Biology and the Chemical Biology Program.  

10 gifts will unlock $2,500 from Sheila David and Peter Beal!

$5,000

Materials chemistry involves the use of chemistry for the design and synthesis of materials with interesting or potentially useful physical characteristics and applications. Help synthesize support for this research through donating to the fund and unlocking $5,000 from Peter Klavins and Susan M. Kauzlarich, Ph.D.!

10 gifts will complete this challenge.

$2,500

The R. Bryan Miller Memorial Endowment and Symposium support preeminent research, provide forward-thinking instruction in the chemical sciences, and perform service activities that will positively impact our campus, society, and the world. The endowment provides support for Aggies in chemistry studies and the Symposium is a global collaborative of industry and academics.

10 gifts will support the Chemistry Department and activate $2,500 from former faculty Neil E. Schore Ph.D..

$15,000

Neil & Carrie Schore Fund for Chemistry provides general support for the post-doctoral program in the Department of Chemistry. You can support ground breaking Aggie research and chemistry innovation through a gift today which activates $15,000 from donors Neil & Carrie Schore.